Ambrogio
Upgrade

:
Simple and user-friendly technology

Discover all the Smart Technologies that allow you to manage and control Ambrogio remotely, to use voice assistants and much more!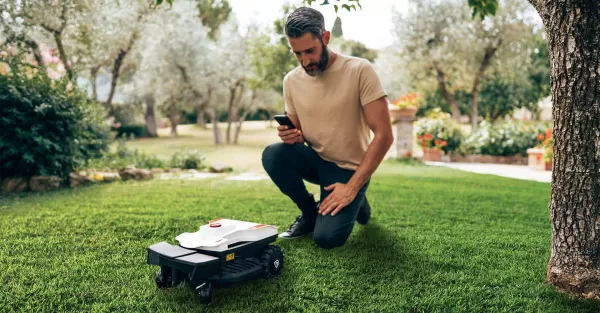 Looking for convenience with easy-to-use technology?
Ambrogio is always just a click away!
The Ambrogio robotic lawnmowers are entirely designed, manufactured and implemented by Zucchetti Centro Sistemi SpA (ZCS).
The dedicated application allows you to:
Manage and control the robot, even remotely
Check its location, to know where Ambrogio is at all times
Download user manuals, right when you need them
Anti-theft system
The anti-theft system also sends an alert if Ambrogio Robot leaves the work area.
The Ambrogio Remote app is available for both Android and iOS: you can download it from Google Play or the Apple Store.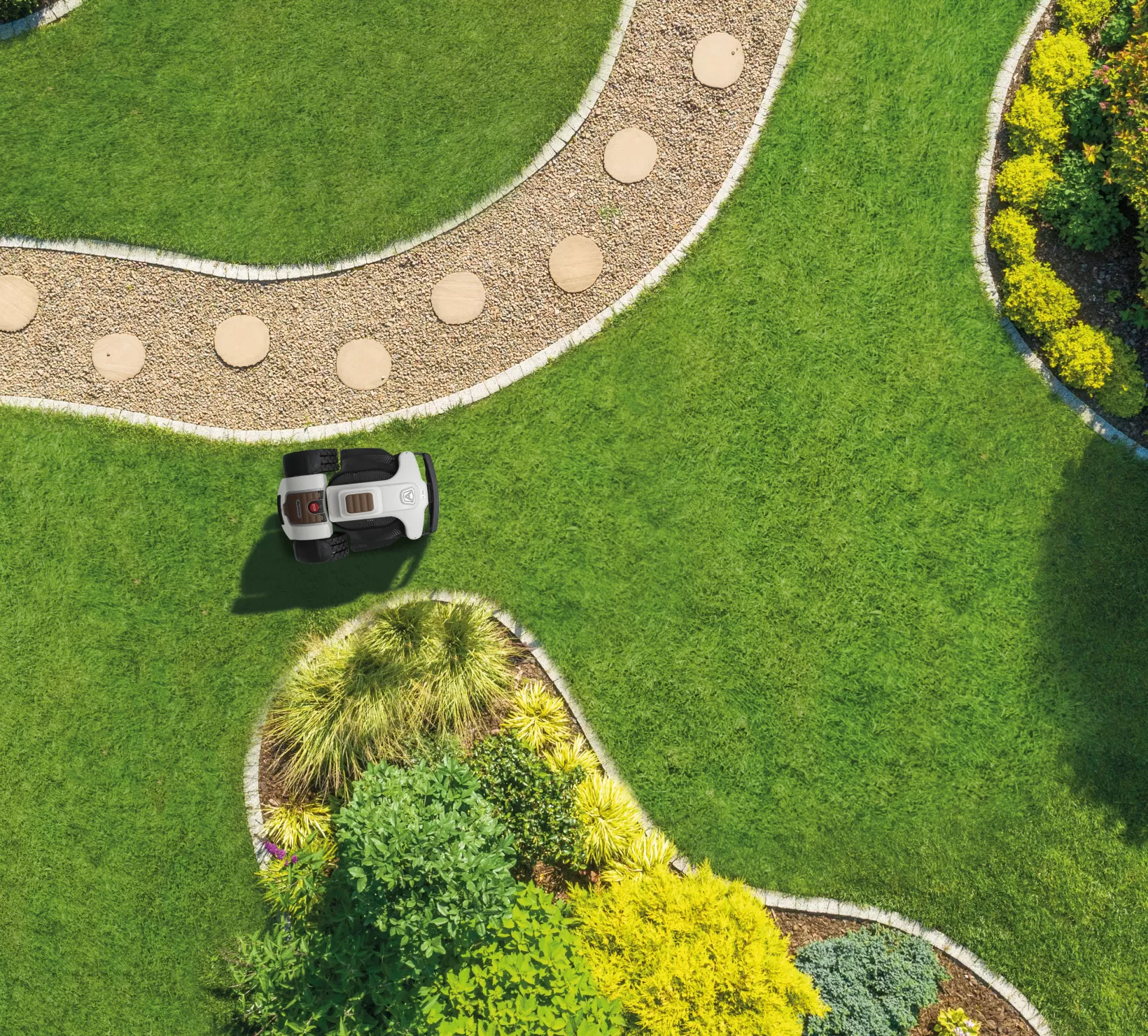 Precision cutting to the inch on large areas, without installation of the perimeter wire?
Nothing could be easier!
The satellite navigation system ZCS Cloud RTK* (Real Time Kinematic) makes it possible for one or more robots to manage a large working area, up to 10,000 m2, with navigation accuracy per centimeter and without the need for perimeter wire. ZCS Cloud RTK uses satellite technology combined with the cloud, to constantly communicate to the robot the position to be maintained, through the appropriate GPS antenna in a radius of 15 km from it.
All this translates into an extreme precision of navigation and cutting, up to 5 cm from the edge of the area and in narrow spaces, difficult to reach. The advantages are numerous and result in no installation required, working efficiency and versatility of use.
*Standard in the Ambrogio 4.36 Elite RTK model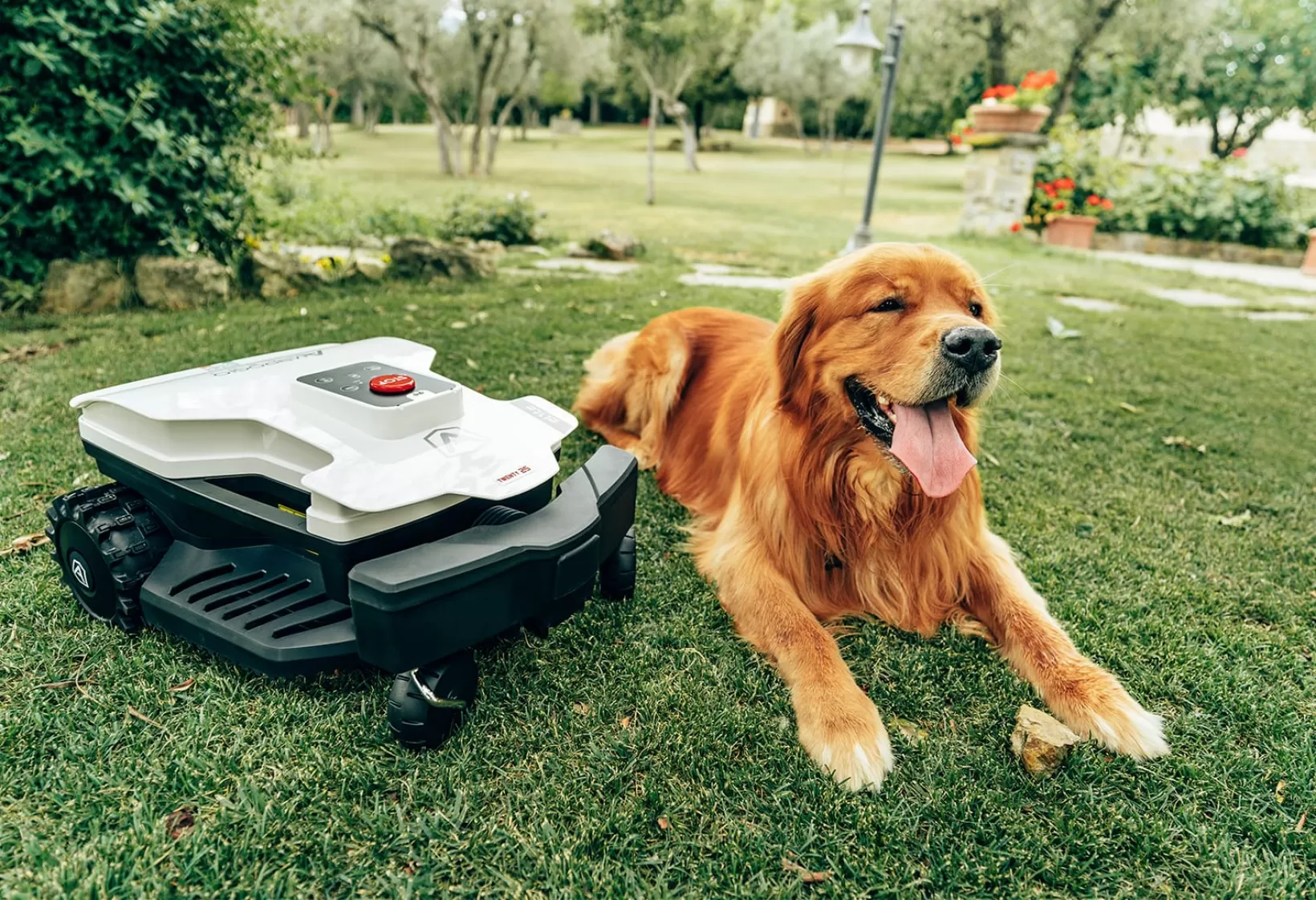 Does your four-legged friend love to run around the garden?
With Ambrogio, he is always safe!
Ambrogio loves pets: it respects and protects small pets and animals.

...And if you want to be completely safe, you can count on AMICO, a microdevice to be installed on the pet's collar that allows the robot to work at a safe distance until the blade automatically switches off. AMICO is safe and harmless and causes no discomfort to your little friends.
AMICO is available for all models in the Ambrogio range.
If you would like more information, please contact the specialist sales network.
A friend to animals
Are you being tormented by mosquitoes?
Ambrogio has the solution: a natural shield against annoying insects!
ZDefence for Ambrogio Robot is the natural, simple and effective defence system against mosquitoes.
How does it work?
Thanks to the use of a natural biorepellent, which acts as a barrier against mosquitoes and prevents the spread of chemicals in the environment, your garden will be free of these annoying insects. It will be a welcoming and liveable place, even during twilight.
Watch the video
Do you want the convenience of voice commands?
Control Ambrogio with Siri, Google Home or Alexa.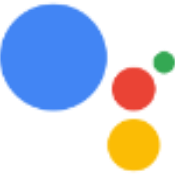 Ambrogio Robot models equipped with ZCS Connect can also be controlled via the most commonly used voice assistances, such as Siri, Google Home and Alexa, through the Smart Assistant feature.
With the voice assistants you can send voice commands to the robot, obtain information about its operation and request data and statistics.
Technological Heart
Are you increasing
the square footage
of your garden?
Some Ambrogio models are customisable!
The best choice for you is:
Infinity System.
This innovative navigation system allows multiple robots to simultaneously share the working space and manage the same area, for precise and complete mowing of the entire area.
Watch the video